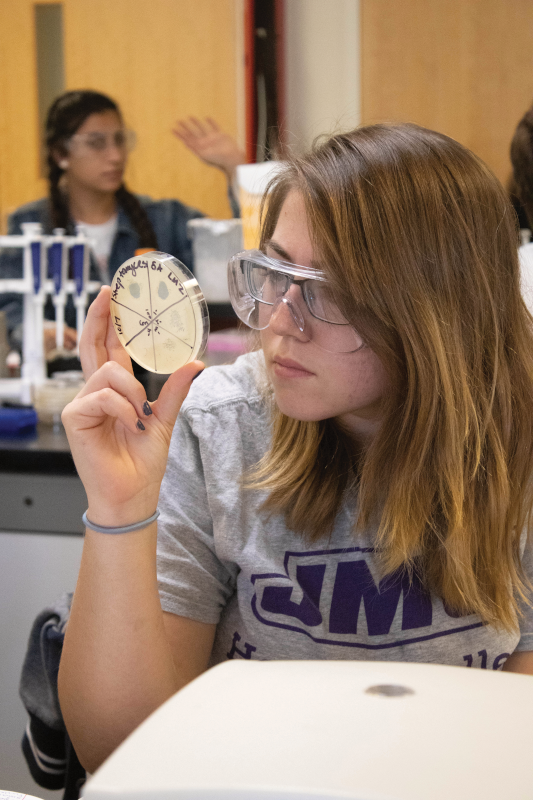 In 2019, Melissa Lubin learned that pharmaceutical giant Merck & Co., Inc., was competing for a billion-dollar expansion in Elkton, a town in the Shenandoah Valley. The project would double Merck's production of human papillomavirus (HPV) vaccines while adding 100 jobs. If Elkton won the bid, it would represent "the biggest expansion the Shenandoah Valley had ever experienced," said Lubin, chief economic engagement officer and dean of James Madison University's (JMU) School of Professional and Continuing Education.
Once the Elkton site was selected for expansion, Lubin partnered with Dr. John Downey, president of Blue Ridge Community College (BRCC), and Mike Baliko, director of learning & development at Merck, to create a new internship program for students from both academic institutions to get the training and hands-on experience required to meet Merck's workforce needs.
Since the start of the partnership, 50 students have completed the internship program. Merck has hired 40 JMU graduates and 35 BRCC graduates into either full-time or contract positions at the Elkton plant.
"Our vision has been to establish a partnership and pipeline within our community focused on developing entry-level biotechnology engineers, automation engineers, and craft talent to proactively accommodate our growth and that of other manufacturers in the Shenandoah Valley," Baliko said.
Lubin and Downey are already thinking of ways to expand the internship program to meet other workforce needs in the region. "We are all benefiting from this — the students, the institutions, and the employers. Everyone's got a win," Lubin said.
Learning to Speak the Same Language
It's no secret that industry and academia operate differently. With distinct missions and goals, it can be difficult for these sectors to align, even when they complement one another.
"Colleges and universities are always willing to talk with companies and work things out, but then we find the words we use differ from the words used by the company," Downey said. "All of us try to listen to companies and respond to their needs, but we often don't get past the first couple of sentences."
To overcome this challenge, part of the funding appropriated from the Commonwealth for the partnership was used to hire Kathleen Gass as the regional manufacturing liaison. Gass accepted the position after spending 18 years of her career in pharmaceutical manufacturing, including jobs at Merck. With this experience, she was perfectly suited to help JMU and BRCC speak the same language as Merck.
Merck's biggest need in staffing for the vaccine expansion was automation engineers. These workers ensure the vaccines are manufactured efficiently and seamlessly. They program the machines, execute dry runs and wet runs with water before any product is added in, and test that all the valves are opening and closing as they should when different components of the vaccine move from tank to tank. It's a complex process, so automation engineers often need to troubleshoot on the job.
Gass acts as a mentor and career coach for the student interns. She said the students she works with are always incredibly grateful to land a job at Merck. And Merck is just as satisfied with the arrangement. As Baliko put it, "Across the board, the experience has been overwhelmingly positive. This partnership has exceeded expectations and has delivered on a reliable pipeline of highly driven and diverse talent."
Refining Curriculum to Meet Workforce Needs
According to Lubin, JMU is one of a few institutions in the Mid-Atlantic that offers a bachelor's degree in biotechnology. BRCC also offers relevant biotechnology training through its mechatronics program, which weaves together electrical, mechanical, industrial, and computer engineering.
Before the partnership began, both JMU and BRCC had been graduating students with relevant backgrounds to work in a variety of pharmaceutical manufacturing roles. But since the program curriculums didn't always align with specific skillsets Merck was looking for, local students weren't getting hired.
"We spent a lot of time documenting and mapping out what the job requirements are and changing the curriculum to match those," Downey said. As part of this process, faculty at JMU and BRCC created a new pathway for graduates of the BRCC mechatronics program to transfer seamlessly to JMU.