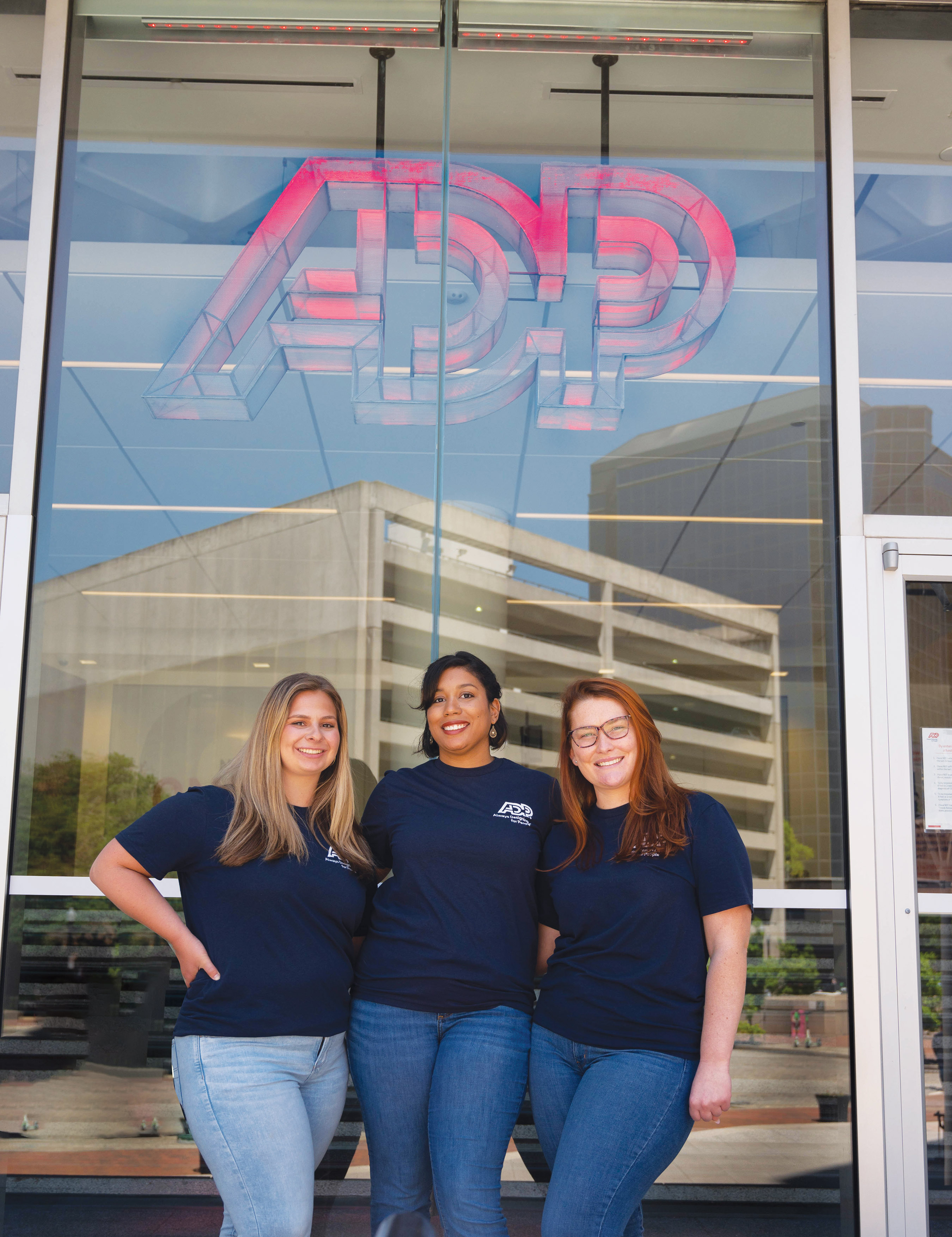 When Destiny Williams was a senior at Old Dominion University (ODU) in Norfolk, she saw an article on the school's website about new human capital management (HCM) courses. The business and psychology major jumped in with 13 other students, taking classes on human resources topics including compensation, performance management, and benefit and salary packages. "I thought it was extremely helpful," she said.
Those initial offerings were part of a new human resources management concentration called the ADP HCM Academy @ ODU, a collaboration between ODU's Strome College of Business and human resources management software and services giant ADP, Inc.
Now in its third year, the program gives students an opportunity to develop the tools and skills needed to succeed in human resources careers — either at ADP, an industry-leading provider of human resources solutions that became one of Norfolk's largest private sector employers when it established its 1,800-job regional customer service center in 2016 — or other companies. It offers students the chance to learn from mentors, an internship, and an immersive, hands-on learning environment.
The program "enables sharing and learning between higher education and industry specialists to help foster highly experienced and confident graduates who can help shape the future of the HR industry," said ADP Division Vice President/General Manager Michael Donohue.
ODU professors were taking a closer look at the university's offerings, reverse-engineering the steps taken by successful human resources managers, when the opportunity with ADP arose. "We really needed to provide a more holistic approach," said Ryan Klinger, an associate professor of management at ODU.
Working with university professors, ADP guided the program's focus toward the industry's current challenges and solutions. ADP provided software for students to learn so they could experiment with real-world cases using the technology. Interactive databases preloaded with demo data help students complete hands-on exercises. Course offerings have expanded since Williams was a part of the program — students now learn additional skills, like how to identify pay inequities and how to function as the director of human resources at a 400-person company.
Students have also experienced changes to the software itself. When ADP introduced new features, students had to adapt just like they would on the job.
ADP hosts a speaker series and gives students the option of pursuing an ADP professional certification acknowledged by the industry, something ODU recognized as a gap in the curriculum before the partnership began.
"Some of the things that we couldn't provide our students — access to software and that real-world work experience — were the things [ADP] had at their disposal," Klinger said. "That's why we decided to blend our efforts and create this program."
Other schools have seen the benefits of the collaboration. Since the ODU program opened to students, the University of Central Florida and Arizona State University have both initiated programs with ADP. ODU also hopes to grow the program at the university, expanding beyond human resources to students studying careers such as sales and data analytics.
Williams graduated in 2021 and is now a payroll specialist at a private equity firm in Richmond, and she came out of the program knowing how to transfer the skills she learned to her current job. She uses them, she says, every day.